Quais as slots que mais pagam e as mais jogadas?
Todos aqueles que já jogaram slots num casino físico sabem o bom que é ouvir o som da vitória, principalmente quando há um bom prémio associado.
Nos jogos de casino online, podes sentir a mesma emoção. Mas, uma vez que o ideal é aliar prémios ao divertimento, há uma pergunta que já deves ter feito: quais são as slots que mais pagam?
Jogos de casino: as slots
Slots que mais pagam
Existem diferentes tipos de slots, cada uma com a sua temática e todas elas com um objetivo principal: proporcionar-nos um bom período de diversão.
O casino online da bwin não é exceção. Desde viagens por civilizações antigas a combinações de frutas vencedoras, temos várias opções desde as mais simples às mais complexas, e todas com grandes oportunidades à tua espera.
A bwin, oferece também slots exclusivas, o que significa que só poderás jogar nestas slots dentro do nosso site.
Onde jogar as melhores slots em Portugal?
Existem diversos casinos online que oferecem diversos tipos de slots machines. A bwin é uma casas de apostas e casino online mundialmente conhecida, que oferece uma experiência ímpar de divertimento, e em que milhões de jogadores confiam em todo o mundo. Entra no nosso site e explora todos os jogos de casino que temos para ti. Se não tens conta na bwin aproveita a nossa oferta de boas-vindas com um bónus de casino de 20€.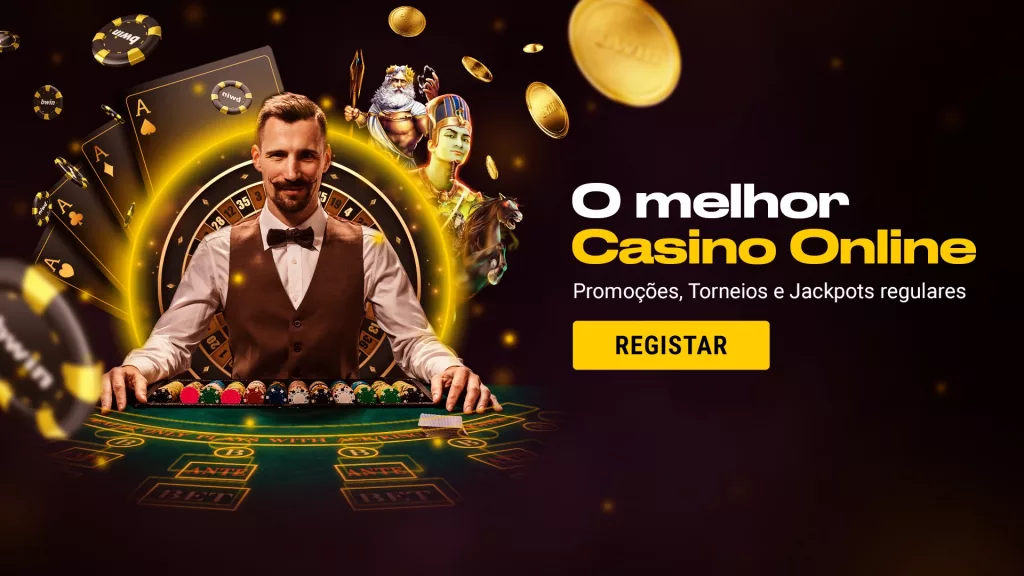 Quais são as slots mais jogadas no casino bwin?
As slots mais jogadas no casino bwin são:
O que é o RTP?
O RTP, ou Return to Player, é a percentagem do prémio que é devolvida a um jogador, através de prémios ou bónus, por determinado jogo.
Cada slot de casino tem o seu RTP. Os jogos têm um botão de informação onde, para além das regras do jogo, dos prémios e bónus, podes aceder ao RTP da slot. Abaixo podes ver o exemplo da slot Gates of Olympus: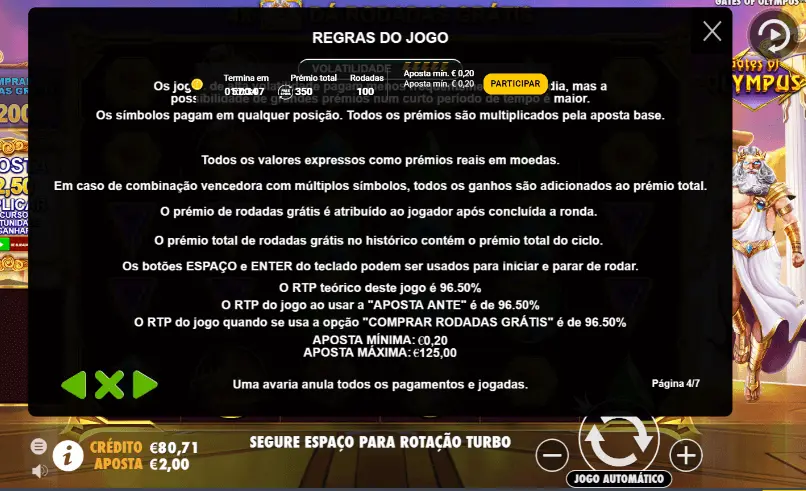 Quais são os providers do casino bwin?
Cada slot pertence a um Provider, que são os fornecedores destes jogos. O casino bwin tem diversos providers, entre elas:
NetEnt;
Pragmatic Play;
EGT;
Red Rake;
ISoftBet;
Poderás ver vários torneios de um provider específico, onde poderás ganhar também diversos prémios.
O casino da bwin está sempre a receber novidades, por isso, nada melhor do que o visitares regularmente para ficares a par das mais recentes atualizações.
Que outros tipos de slots posso jogar no Casino bwin?
O Casino bwin oferece-te também slots de jackpot.
Jackpots são um tipo de slot onde com pouco dinheiro poderás ter bastante retorno. No caso do Casino bwin, há várias slots de jackpots onde podes jogar. Se não sabes muito sobre este tipo de jogo, poderás perceber mais aqui. Encontra neste artigo o que é um jackpot.
Há bónus de boas-vindas para jogar nas slots do Casino bwin?
Sim, há um bónus de boas-vindas a decorrer de momento. Podes saber tudo ao carregar na imagem seguinte.